Bronze (Português)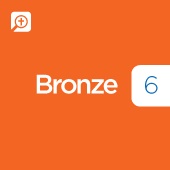 garantia de reembolso de 30 dias
Serviço ao Consumidor Grátis
Funciona em Windows e Mac
Visão Geral
Descubra conceitos bíblicos culturais, estude a Bíblia no contexto em que foi escrita, veja milhares de imagens da Terra Santa, identifique os principais eventos com a Timeline, e obtenha informações instantâneas sobre temas bíblicos com o Factbook. Compartilhe mídia sofisticada com as Cópias Visuais e vasculhe a Palavra com importantes comentários críticos e exegéticos.
Faça Mais Com O Logos 6
Estudo Bíblico
Connect a história da Bíblia com a sua geografia.
Explore mídia de qualidade.
Obtenha informação instantânea sobre tópicos bíblicos.
Encontre os resultados corretos em uma única busca.
Faça ligações entre os acontecimentos bíblicos.
Conecte a Palavra com a nova Mídia Interativa.
Revele conceitos culturais do mundo bíblico.
Acadêmico
Conecte conceitos culturais com a literatura antiga.
Pregação e Ensino
Transforme sua enterlinear reversa em uma poderosa ferramenta de pesquisa.
Explore o background bíblico.
Encontre mídia relevante e de alta qualidade.
Atraia seu público com apresentações sofisticadas.
Obtenha respostas rápidas em tópicos bíblicos.
Grego e Habraico
Converta Grego e Hebraico.
Pesquise as línguas originais em sua Bíblia.
Simplifique seus léxicos.
Conecte ideias em português com palavras em línguas originais.
Expand all
|
Collapse all
Faithlife Study Bible Infographics

Faithlife Study Bible Photos

Faithlife Study Bible Video Resources

Images from A Biblical and Theological Dictionary

Images from A Standard Bible Dictionary

Images from Helps to the Study of the Bible

Images from The Temple Dictionary of the Bible
Almeida Revista e Atualizada

Almeida Revista e Corrigida 1969

Brenton's Septuagint: Greek Text

Coleção de Bíblias Antigas

Reina Valera Revisada (1960)

The Cambridge Paragraph Bible of the Authorized English Version (KJV)

The Lexham English Septuagint (LES)
Coleção Através da Bíblia
Conjunto de Dados de Eventos Bíblicos

Conjunto de Dados de Lugares Bíblicos

Conjunto de Dados de Objetos da Bíblia

Conjunto de Dados de Pessoas da Bíblia

Conjunto de Dados Logos de Vocabulário Controlado

English Audio Pronunciations Dataset

Resource Excerpts Dataset

The Lexham Syntactic Greek New Testament (en)
Breve dicionário de teologia
Apparatus for the Greek New Testament: SBL Edition

The Greek New Testament: SBL Edition
A Harmony of Samuel, Kings, and Chronicles

A Harmony of the Gospels (Robertson)

A Harmony of the Synoptic Gospels for Historical and Critical Study

Jude–2 Peter Parallels (Jackson)

Old Testament Quotations and Allusions in the New Testament

Parallel Passages in the Pastoral Epistles (Brannan)

Records of the Life of Jesus

Synopsis of Matthew, Mark, and Luke (Jackson)

Synopsis of the Old Testament
Contando os Dez Mandamentos

Conversor de Pesos e Medidas

Festas e Sacrifícios Israelitas

Infográficos Interativos BEF

Linha do Tempo Visual de Personagens Bíblicos

Navegador de Eventos Bíblico
Bíblia Almeida RA Interlinear Reversa

The English-Greek Reverse Interlinear Lexham English Septuagint

The English-Greek Reverse Interlinear New Testament Lexham English Bible
English Bible Versions Timeline

Intertestamental Period Timeline

New Testament Books Timeline

Old Testament Books Timeline

Old Testament Prophets Timeline
Despertando A Igreja Para A Missão De Capelania Escolar
Logos 6: Quickstart (28 videos)

Recursos de fora da biblioteca, incluindo produtos adicionais, arquivos de suporte e recursos do sistema que ajudam a obter o máximo proveito do Software Bíblico Logos.
Collins Thesaurus of the Bible

Diccionario Bíblico Lexham

GUIA CRISTÃO DE LEITURA DA BÍBLIA

Lexham Glossary of Theology

The Animals Mentioned in the Bible

The Lexham Bible Dictionary

The Treasury of Scripture Knowledge

Torrey's New Topical Textbook
Bíblia de Estudo Almeida Revista e Atualizada
Connect the Testaments: A One-Year Daily Devotional with Bible Reading Plan

Inspiração e autoridade da Bíblia, A

John McArthur - Série: A verdade Sobre…
System Requirements
Windows
Windows 7 SP1
2GB RAM
Monitor de 1024x768
30GB de espaço livre - Só HDD interno / SSD (pode necessitar de espaço adicional, dependendo da sua biblioteca)
Conexão com a internet (para ativação, atualizações e alguns recursos)
Mac
OS X "Mavericks" 10.9
2GB RAM
30GB de espaço livre - Só HDD interno / SSD (pode necessitar de espaço adicional, dependendo da sua biblioteca)
Conexão com a internet (para ativação, atualizações e alguns recursos)
Arquivos para Baixar
Depois de comprar este produto, volte aqui para fazer o download: